This week's Yego Yoga class schedule:

Jump on your mat with Yego Yoga!
Yego Yoga Rwanda is a pop-up  studio offering weekly classes in Kigali.  Our experienced teachers offer yoga classes in Kigali.  Our yoga classes are mixed level vinyasa flow classes.  Drop-ins are welcome – no need to sign up in advance.  We cater to all types of students, whether you are new or experienced, you are welcome!  Like us on Facebook to receive updates on our weekly classes and special events, sign up for our newsletter right here on our homepage to receive a weekly schedule right to your inbox, and you're welcome to email us at yogis@yegoyogarwanda.com if there is anything we can do for you.
We offer individual and small group classes in the privacy of your own home with experienced yogi Joseph Dushimimana, who can teach beginners to advanced practitioners, in English, Kinyarwanda or French.  Contact Joseph directly: 0787675370 or 0725 727085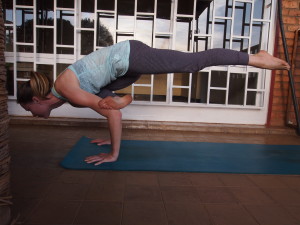 Yego instructor Rebecca in eka pada galavasana
Not in Kigali?  Hold the phone…there are  also weekly yoga classes offered by our friends Power Yoga Rwanda in Butare, and Ubushobozi Cooperative in Musanze!  Visit our class schedule page for more info about yoga outside Kigali.