Jump on your mat with Yego Yoga!
 Do you love a good flowing vinyasa yoga class taught by an experienced and fun instructor?  Come to our Monday, Tuesday, and Wednesday Vinyasa Flow evening classes.
Pilates Fusion  blends mat Pilates, yoga and ballet methods for a full-on core challenge.  It's all about core control, lean muscles, and stabilizing breath to carry beautiful posture; super useful for a strong yoga practice.  Or shake it all out and get your groove on with Latin Rhythms Zumba  classes!
We offer individual and small group classes in the privacy of your own home with experienced yogi Joseph Dushimimana, who can teach beginners to advanced practitioners, in English, Kinyarwanda or French.  Contact Joseph directly: 0787675370 or 0725 727085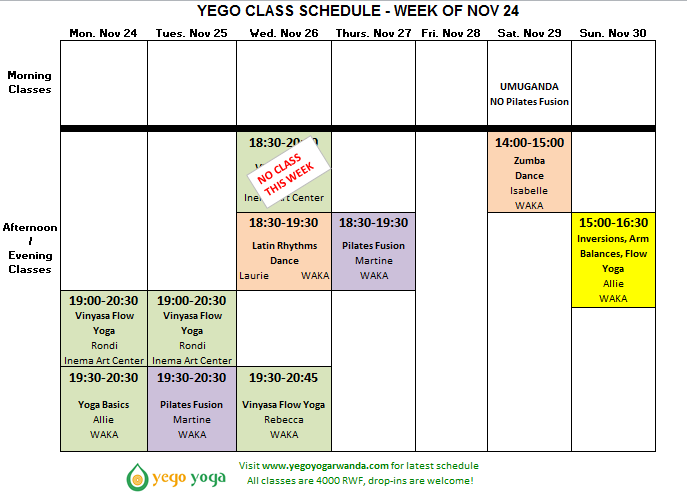 Yego Yoga Rwanda is a pop-up yoga studio and yogi network offering weekly classes across Kigali.  Our experienced teachers seek to help you embrace the yoga lifestyle by transforming your body, clearing your mind, and enlightening your spirit. We offer various styles (vinayasa, modified ashtanga) in a variety of settings (heated, non-heated) in different locations (recreation center, art studio, gym) to suit every yogi's needs.  We also offer Pilates and dance classes to help you connect with your body and free your mind though movement.  Come try a class this week!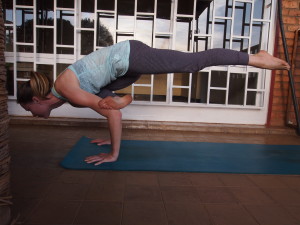 Yego instructor Rebecca in eka pada galavasana
Like us on Facebook and email us at yogis@yegoyogarwanda.com to receive updates on our weekly classes and special events!
Not in Kigali?  Hold the phone…there are  also weekly yoga classes offered by our friends Power Yoga Rwanda in Butare, and Ubushobozi Cooperative in Musanze!  Visit our class schedule page for more info about yoga outside Kigali.